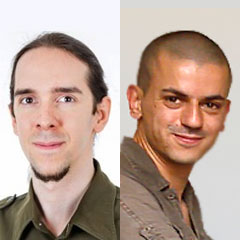 Date and time: May 10, 2:00 pm - 6:00 pm
Register now!
Frontend developers creating single-page, stateful applications has a lot of challenge to overcome. To do so we can learn from other technologies that already has some answers for these problems and try to implement it on our environment, the browser.
This workshop is about using a strongly-typed language with transpiling, targeting cross-platform environments, building modular architectures and providing solutions for common pitfalls. During this workshop we will play around with the Haxe language using the hexMachina MVC framework, spiced with smart code designs, focused on structuring long life-cycle applications.
This workshop is brought to you by Docler Holding.
About our workshops
Every attendee, who bought their ticket to JSConf Budapest 2016 can choose from and sign up to several planned workshops, without any extra costs. Registration is based on first-come first-serve basis, and requires your JSConf Budapest ticket ID (something like this: AAAA-1)
These workshops will be all day long, so application is possible only for one per person. If anyone registers for more, we'll count the first registration, and void the rest.
We will notify our attendees about available workshops, as soon as they become available, and we'll also announce these on twitter and facebook, so be sure to follow us for updates!